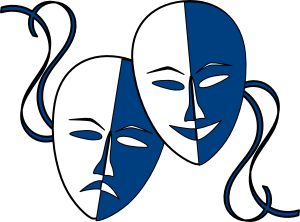 In addition to my audiobook recordings, it has been my privilege to become involved in Audiodrama. These productions ad a new dimension to story telling as the part you play is woven together to that of other cast members as well as special effects to capture your imagination and transport the listener to far flung realities So far I've been involved in one audio drama series as a regular cast member as well as a few stand alone audio dramas, some of which have been released already, while others are still in production. Please feel free to follow the links below to find those that are already available.
Cast
Verity Weaver – Alena Van Arendonk
Fable Ashwood – Lily Howkins
Richardson – Jus Sargeant
Magda – Arti Mirwani-Daltry
Ship computer – A.L. Ferio
Production Team
Producers – David Holdsworth and Nina Sarkozi
Script Editor – Nina Sarkozi
Incidental Music – Pat Delia
The Gray Line is a series of short stories with a twist, written, produced and presented by G. Norman Lippert. I am a regular cast member, appearing in many of the stories, voicing both characters as well as narrating.
An Indian nanny who travels to Britain in 1905 with the family that employs her, but has to fend for herself when she is cast out.
Ibrahim Rahman – Narrator
Suzie Rai – Jaya
Jus Sargeant – Colonel William Edmundson/Roy Silvan/Jailer
Victoria Fitzgerald – Emmeline Pankhurst
David McCormack – Shipping Master/Winston Churchill/Chief Mate/Street Crier/Coachman
Alan Rayment – Sir Alfred Harmsworth/Woodes
Harriet Dunning – Christabel Pankhurst/Cassandria
Karen Pitt – Sara Edmundson
Hilary Beaton – Sylvia Pankhurst
Derek Murray – Captain Walker
Duncan Hess – Sir Malcolm Saunders
Margaret Sutherland – Lydia
Sakshi Sharma – Sila
Reshma Madhi – Vani
Arti Mirwani-Daltry – Chandra
Nigel Thomas – Mr Austen/Policeman
Becky Harrison – Eleanor
Margaret Ashley – Mrs Billings
Angus Scott – Sir Edward Grey
Written by Shahida Rahman and Halle Eavelyn, based on 'The Homecoming' by Shahida Rahman
Arranged for audio performance by Andrew Wetmore
Soundtrack by David McCormack
Directed by Nina Sarkozi
Produced by David Holdworth